Welcome to Killville, the creepiest little town in New England. A festering little burg full of broken-hearted betrayin', revengin', drinkin' and killin'. Old Scratch's favorite stomping grounds where the souls are ripe for the pickin' and cheaper than dirt. Home to Angry Johnny And The Killbillies singing the soundtrack of sweet ol' death for your toe-tappin' inevitable demise.
************************

Angry Johnny And The Killbillies' November 23rd "Thanks For Nothin" Show at the 13th Floor Music Lounge has been cancelled due to a family emergency. Sorry for any inconvenience this will cause. Hopefully they can find another band to fill in.

So I guess you can let go of your giblets now.

***********************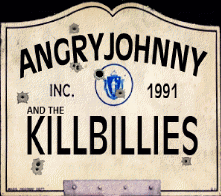 All Images and Content Copyright ©1996-2015 Angry Johnny. All rights reserved.